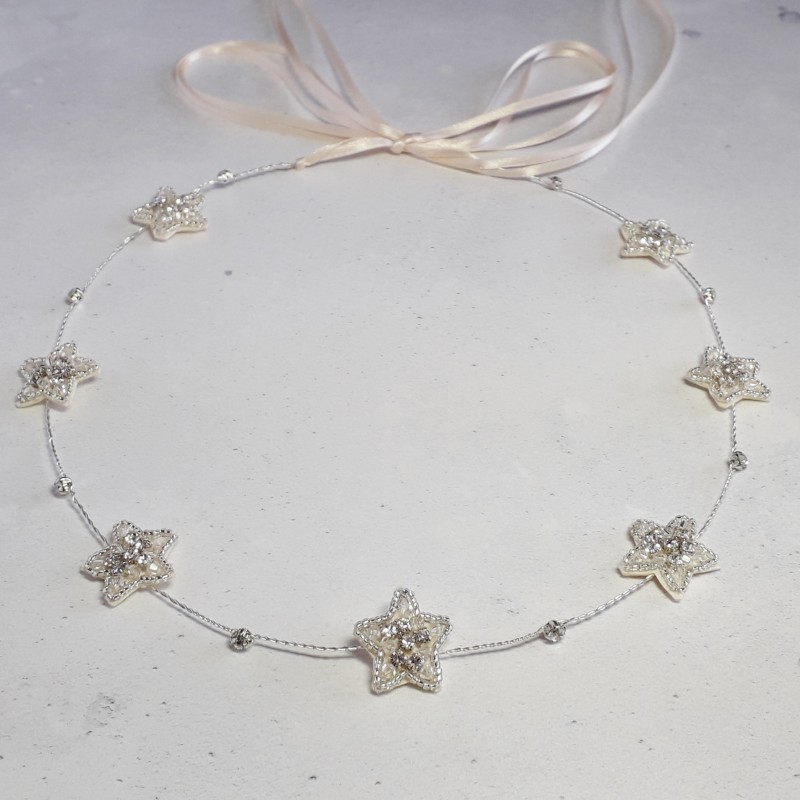  
Aster Hair Vine
For details of delivery and returns please click here
A halo style vine, Aster features twinkling stars which have been carefully hand beaded using diamante and crystals and finished with an edging of delicate seed beads, these pretty stars sit on a hand twisted wire dotted with diamante for a little extra sparkle!
The vine is finished with luxury cream satin ribbons and is designed to either sit across the forehead for a contemporary bohemian look or placed in a classic alice band style. For a different look the ribbons can be removed and the vine weaved into the hair and secured with hair grips.
Hair vines are the perfect hair accessory as there are extremely versatile and created on fine plated wire makes them extremely light weight and comfortable to wear.
Made from:
Clear crystals, clear diamante, silver lined seed beads, 3mm cream satin ribbon, silver plated wire, ivory faux suede.

Dimensions:
The overall length including ribbons measures approximately 148cm.
The vine length approximately 48cm long and each star measures approximately 2cm at it's widest point.
The ribbon measures 7mm wide.
The Aster Hair Vine comes wrapped in layers of tissue paper and placed in one of our signature boxes which is hand tied with our favourite purple ribbon!