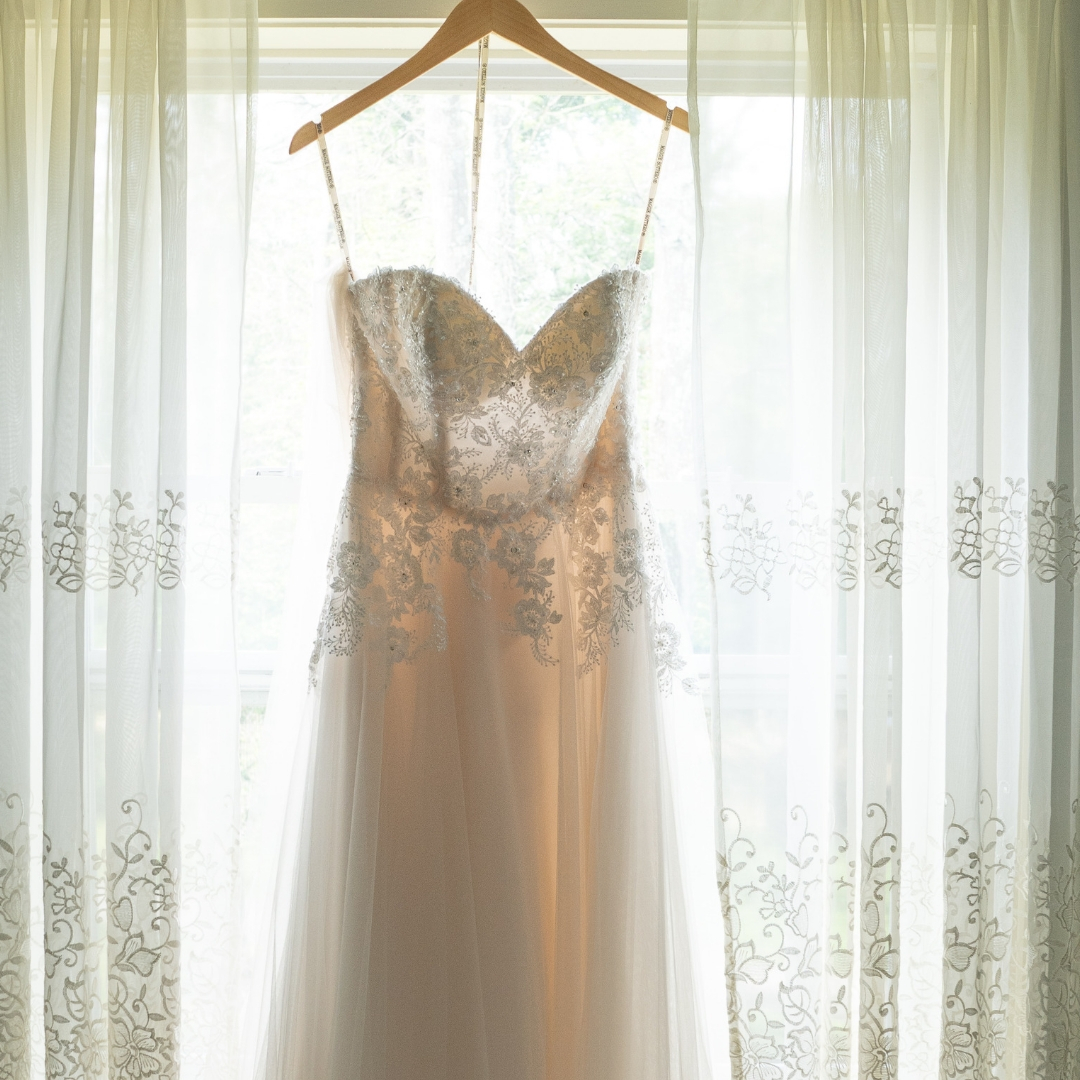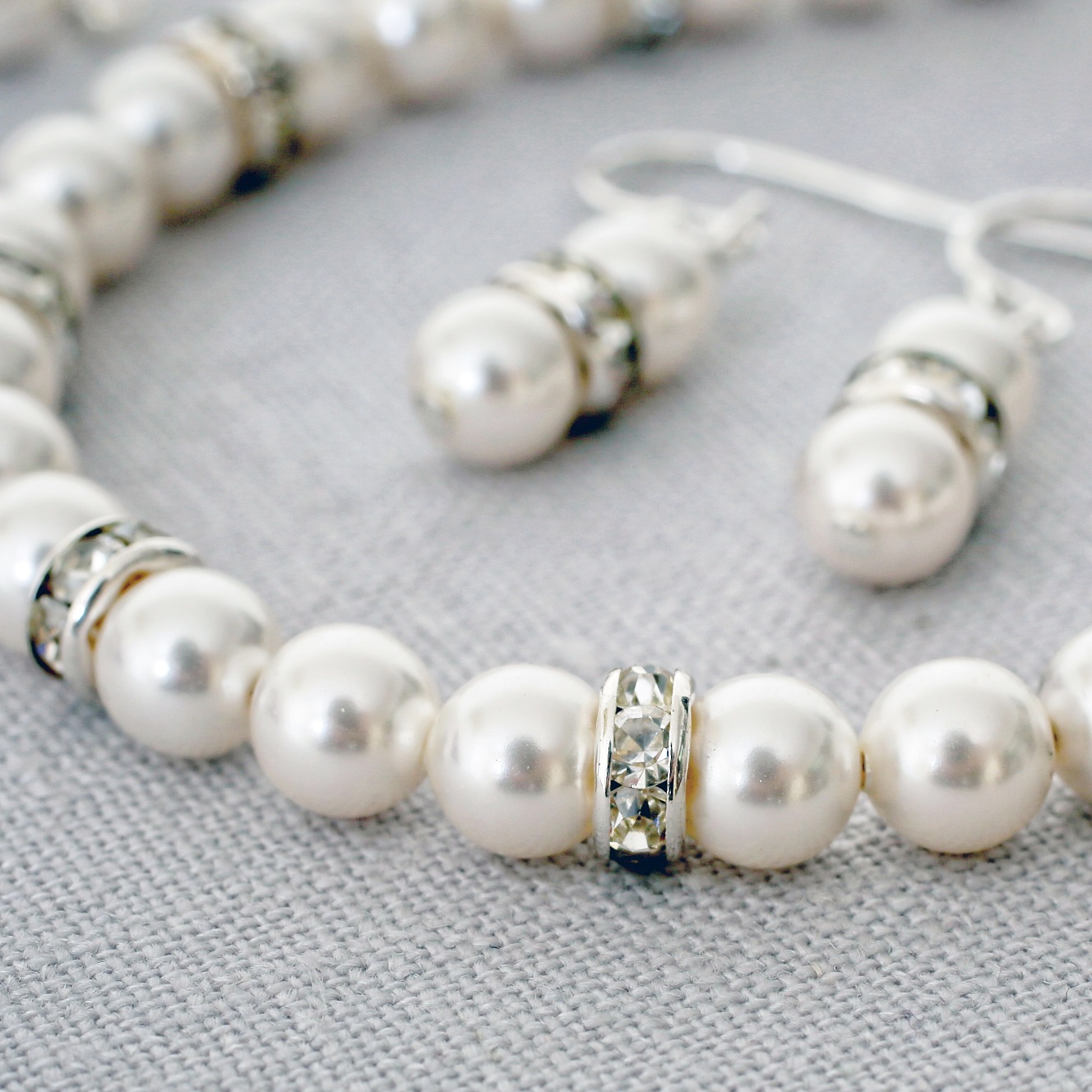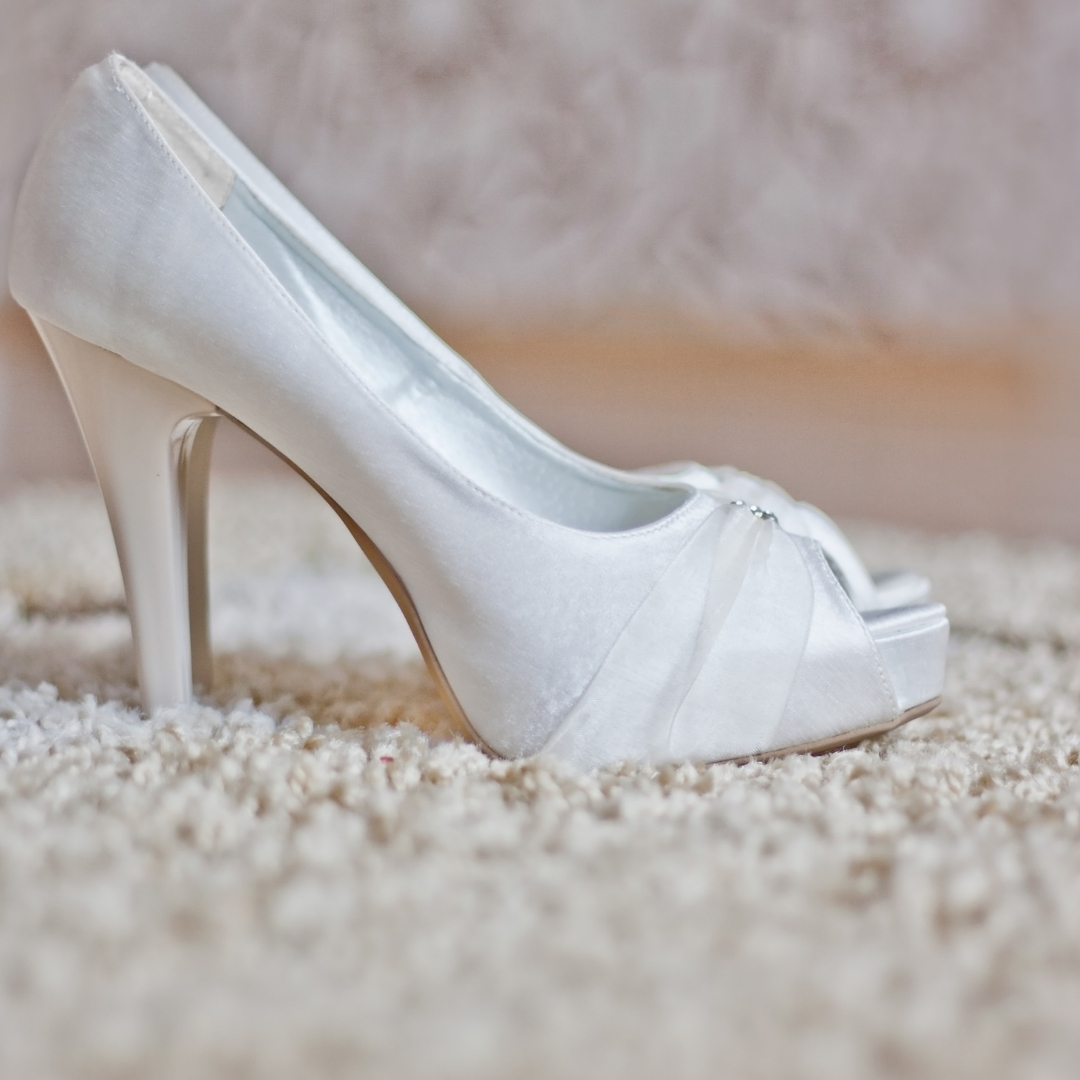 As with all things wedding related there is a vast array of choice out there and bridal jewellery is no exception to this. Sometimes it can be quite overwhelming, after all a tiara or hair vine is not something you wear everyday...although I am sometimes tempted...!
So where do you begin?
This guide is by no means set in stone but it may give you a starting point and help you to focus on possible options. One of the most important things is to have fun choosing...trying on all the sparkles is all part of the experience and with our exclusive studio appointments we have coffee and cake too!
First things first...
- Before you choose your jewellery it is useful if you have chosen your dress or have an idea of the style of dress that you will be wearing. The detail/style of your dress will help you to determine the style of jewellery that works best.
- Choose jewellery that reflects you and your style...it is important that you feel comfortable in the jewellery that you are wearing, so if you don't normally wear jewellery you may want to look at subtle pieces such as a pair of Amy Earrings or the Chloe Bracelet.
- In contrast to this you may decide that as it's your big day you would like to wear something totally different from your usual choice of jewellery, there are certainly no rules, if you are happy and feel comfortable in what you are wearing then you have made the perfect choice!
- Whilst I create "collections" of bridal jewellery, many of the pieces will mix and match perfectly. For example if you love the Molly Bracelet, don't feel that you need to wear the Molly Earrings. If you prefer a longer style, the Rubie or Pippa Earrings would compliment the bracelet perfectly. Or you may already have a piece of jewellery but need something to match, for example Grandma's pearl necklace...we can try to match the colours of pearls to create a pair of earrings or bracelet to wear alongside it.
- Don't feel that you need to select only traditional, white, ivory or cream colours for your bridal jewellery. Small additions of colour can be subtle and compliment your chosen colour theme perfectly.
- Something else to consider when thinking about your jewellery and accessories is whether you are going to wear them for the whole day or perhaps if you are wearing a traditional pearl tiara during the day, you may prefer to replace it with something a little less formal for the evening party, such as a set of sparkly hair pins.


Choosing your Hair Accessories...
Tiaras
One of the more traditional hair accesssories, a tiara can be worn with a range of hair styles, either up or down. If your dress is particularly traditional in style a tiara would be a suitable choice.
Hair Bands
An alternative option to the traditional tiara style, a hair band can still be worn with a range of hair styles. We have a range of hair band designs, such as the Freya Band which shows detail across the top of the band or the Beatrice Band which has detail on the side of the band.
Combs
A slightly more understated hair accessory which can be positioned either in the back of an "up do" or if wearing the hair down, swept up to the side. The shape of the Florence Comb sits beautifully in the back of the hair or why not try some of our mini combs such as the Ruth or Chloe Mini Combs which are sold in sets of three and look so pretty dotted around the hair.
Hair Pins
Simply dotted around an "up do", hair pins are the most subtle of hair accessories or the can be combined with other accessories to add extra detail. 
Hair pins are only suitable if you are wearing your hair up as they require a thickness of hair to attach to. However if you like the look of hair pins but are wearing your hair down a suitable alternative would be a hair grip. All of our hair pin designs can be finished with a hair grip, simply let me know at the time of ordering.
Hair Vines
One of our most popular hair accessories, hair vines are super versatile as they can be worn with any style of hair and styled in many different ways. Our "Halo" style vines, such as Rosie and Lily are attached to pretty satin ribbons and can be worn "hair band" style or across the forehead "boho" style or you could remove the ribbons and weave the vine into your hair, securing with hair grips. An alternative to the halo style hair vine is the shorter style, such as Marian or Sophie which are finished with loops rather than ribbons and secured with grips.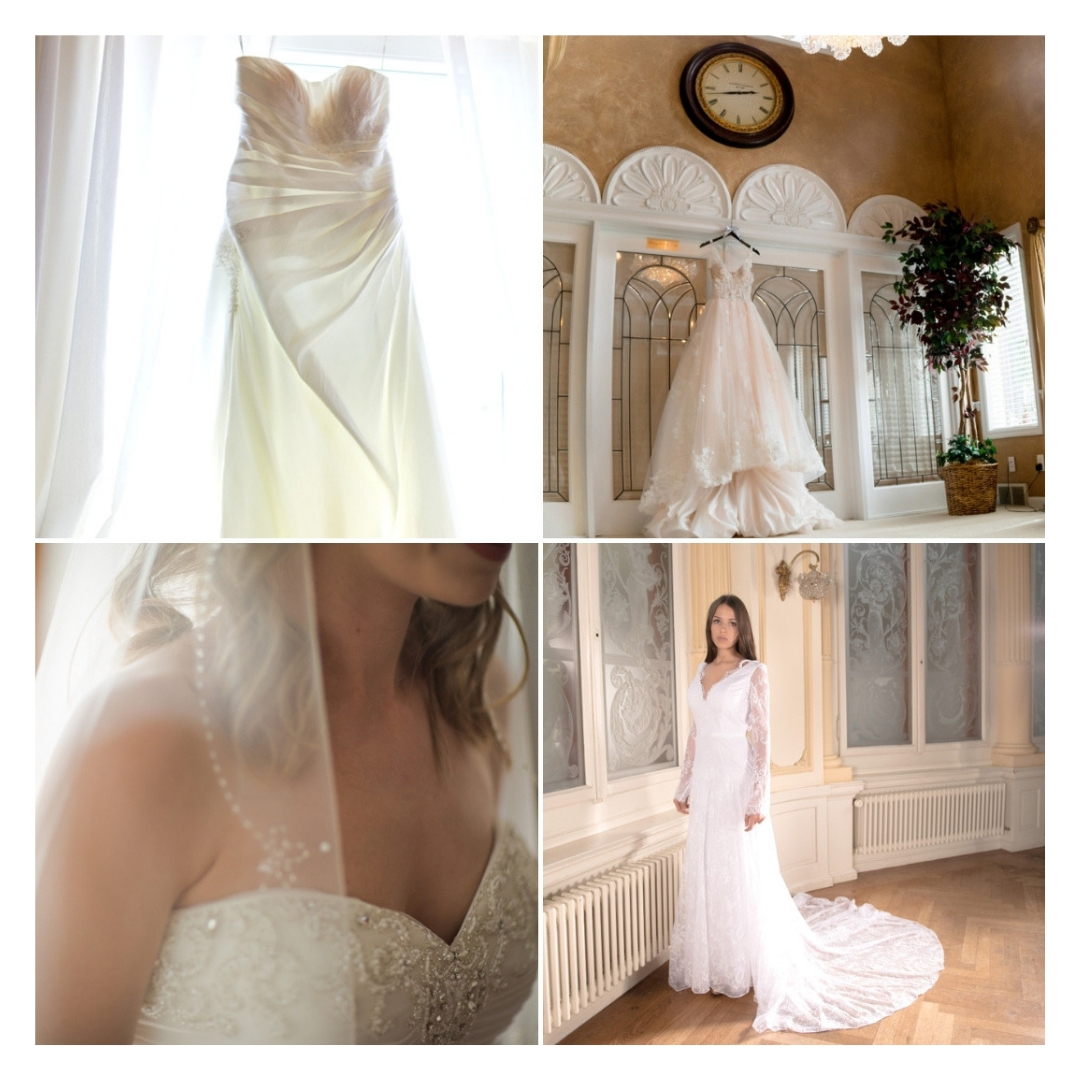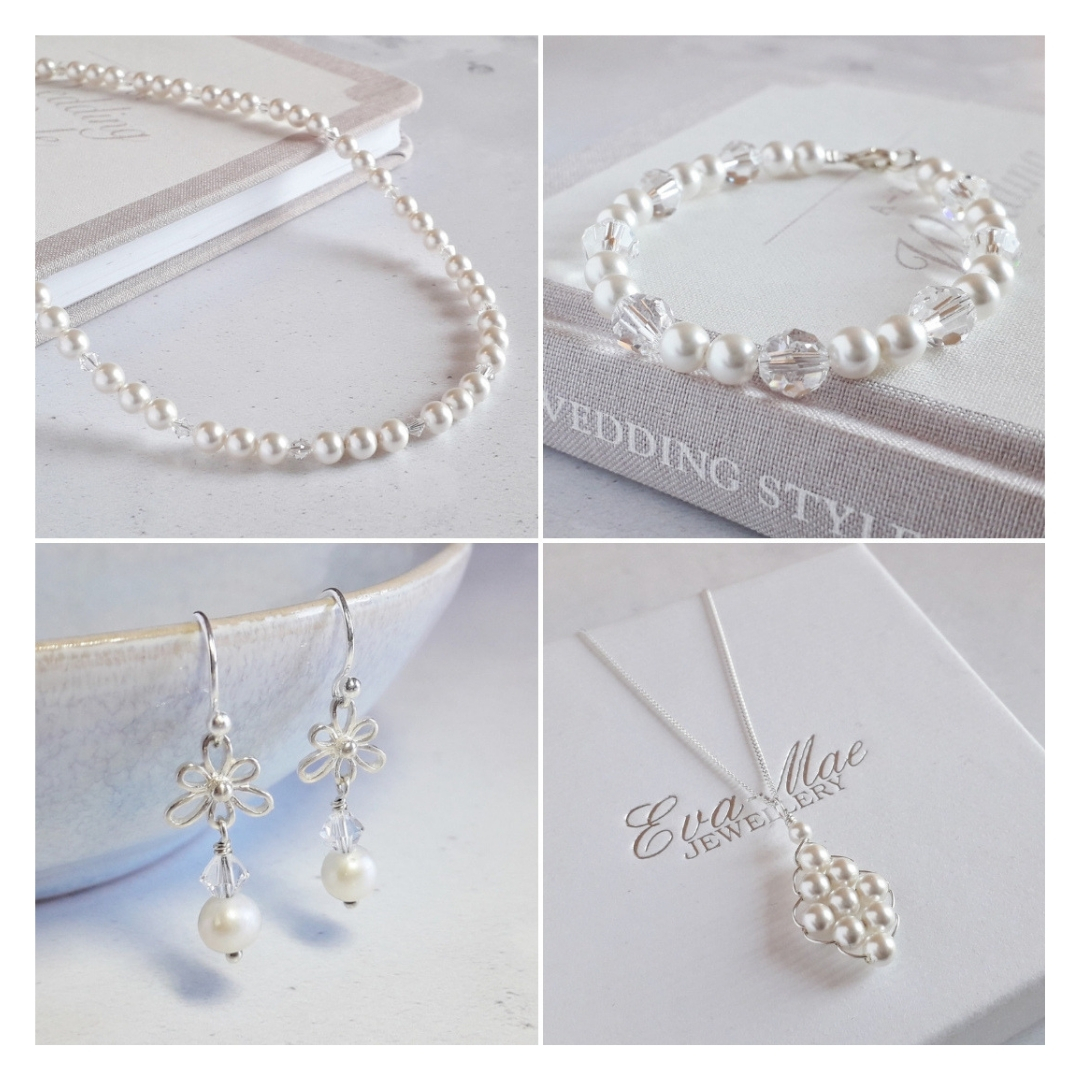 Choosing your jewellery...
As mentioned earlier, it is useful to know the style of your dress when choosing your jewellery and if you have images of your dress this can make it much easier to decide on suitable styles.
Style of dress...
If your dress is heavily embellished then you may want to keep your jewellery simple, maybe a delicate pendant and small drop earrings. Likewise if your dress is simpler in style you could wear more detailed jewellery.
Always remember, your bridal jewellery should compliment your dress rather than compete with it.
Strapless
Most styles of jewellery will suit this dress so you can really have lots of fun playing with ideas...a delicate necklace such as the Evelyn Chain or Pippa Pendant or if you prefer the look of a full row of pearls, try the Lorna Necklace. 
A pair of drop earring would look lovely, such as the Marian or Evelyn. 
All ranges of bracelets would be suitable, however if you are wearing the Evelyn Chain and Earrings, why not complete the look with the Evelyn Bracelet?
One Shoulder
This style of dress does not require a necklace as it can detract from the feature of your dress, instead focus on a statement bracelet, such as the Amelia Bangle or for the ultimate sparkle the Ella Cuff.
Any style of earrings could be worn as they won't be competing with a necklace, so why not choose one of our longer drop styles, such as Pippa or Marian?
High Neckline
As with the one shoulder style dress, a high neckline would not suit a necklace, therefore focusing on a bracelet and earrings would be a good idea.
Earrings should be kept quite simple, particularly if there is a lot of detail on the bodice of your dress which then goes up to the neckline. The Emily Earrings are a shorter style drop and are available in a range of pearl colours to match your dress perfectly, or if you prefer a simple stud, our Swarovski pearl studs are the perfect choice!
Sleeves
If your dress has long sleeves, wearing a bracelet is not necessary as it won't be noticeable with the sleeve detail. Instead focus on other pieces of jewellery, such as earrings and a necklace.
The Isla Necklace with its mix of freshwater pearls and Swarovski crystals is a beautiful piece or you may prefer a pendant such as the Lorna or Marian. Matching earrings are also available in these collections.
Halterneck
Wearing a necklace with a halterneck can confuse the neckline, so it is probably best to avoid a necklace, unless you choose a simple pendant such as the Lorna or Evelyn which would add a subtle touch to the neckline. 
A statement pair of earrings such as the Rubie Earrings would look beautiful with this style of dress and are available in a range of coloured crystals if you wish to add a pop of colour to your accessories.
Sweetheart
A sweetheart neckline would best suit a drop style necklace such as a pendant or the Daisy Necklace which has a beautiful drop of freshwater pearls and Swarovski crystals.
And if you choose the Daisy necklace why not complete the look with the matching earrings and bracelet?
Off the Shoulder
This style of dress would suit a classic round necklace, such as the Lucy or Lorna Necklace. A delicate bracelet, such as the Chloe or Lola Bracelet would be a lovely addition, along with simple drop earrings.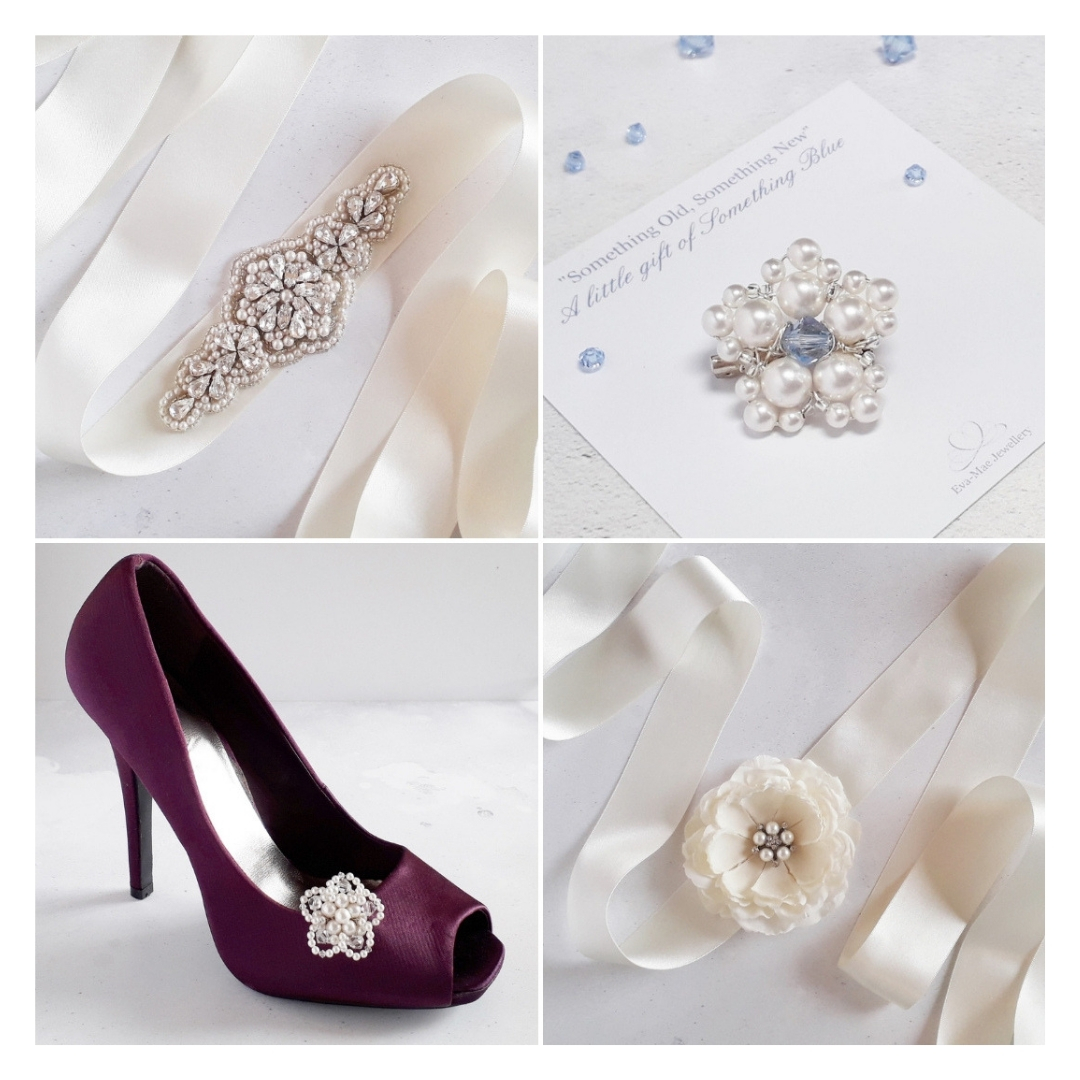 Other Accessories...
Sashes
If you would like to add a little extra detail to your dress, a sash can create a beautiful finishing touch.
All our sashes are hand beaded and finished on luxury satin ribbon which can be matched to the colour of your dress.
Brooches
These can be worn in many ways, either attached to your dress, in a bouquet or even attached to a ribbon and worn in the hair.
They also make a lovely keepsake of your special day and make the perfect gift for a mother of the bride.
Shoe Clips
These make a perfect alternative to buying a pair of traditional wedding shoes.
Why not attach the clips to a coloured pair of shoes, giving you the look of wedding shoes, whilst still enabling you to wear the shoes after the big day by removing the clips.

As mentioned previously, these are by no means the rules when choosing your jewellery and accessories, in fact perhaps the only rule that I would recommend you follow is that you try on a selection of pieces before you choose "The One" even if it means you go back to the first one you tried!
All of the Eva-Mae Bridal Collection is available to view and purchase through the website, however you may prefer to book one of our Exclusive Studio Appointments, where you will have the opportunity to see everything in real life and don't worry if you are unable to find exactly what you are looking for we also have a Bespoke Design Service available where we work together to create a piece that is completely unique to you!
Please feel free to contact me here to discuss your ideas or to book a studio appointment.